Our first teaching series on Sundays in 2022 comes from the Gospel of Mark (beginning Sunday 16 January). As a way of journeying deeper together in this, we're going to spend 40 days from Monday 17 January reading through the Gospel of Mark together.
There will be two ways to do this:
Analogue – pick up a physical Bible each day and follow the readings as printed in each week of Cuthbert's Live.
Digital – download the YouVersion Bible app for your mobile phone or tablet and join the reading plan HERE.
It would be great if as many as possible, from the youngest to the oldest, joined in with this. For any help, please make contact with Toni or Mark.
We don't read a novel the same way we read a legal document.
The Gospel of Mark is one of the London Institute of Contemporary Christianity's (LICC) 'Gateway 7' books – a series on seven books of the Bible, covering seven genres, with a whole-life discipleship focus.
We don't read poetry in the same way we might read a letter from a friend. So, we don't read the 66 books of the Bible as if they were all the same kind of writing. Story, song, law, letter, and more, all make up the rich repository of writing that together is God's word to us. Each type plays a different role in shaping our minds, hearts, imaginations, and actions. Together, they deepen our reading of the whole Bible and open a gateway to new biblical application for our lives – seven days a week.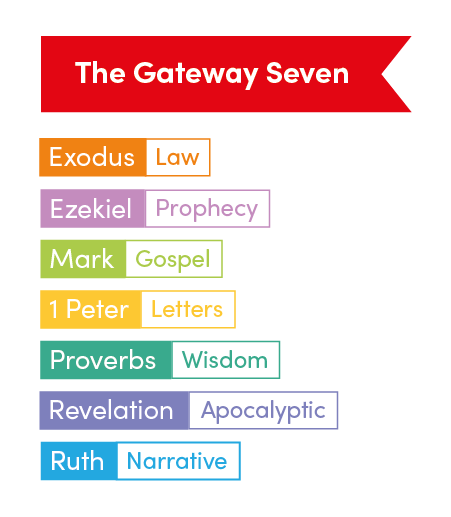 For The Gateway Seven series they've selected seven books of the Bible representing seven genres: Proverbs (Wisdom), Exodus (Law), 1 Peter (Letters), Ezekiel (Prophecy), Ruth (Narrative), Mark (Gospel), and Revelation (Apocalyptic). The series, beginning with Proverbs, will offer study guides for each of the books with a whole-life discipleship perspective. The mini-features sprinkled through the studies, along with the questions and thoughts for discussion, help you understand each book within its background and genre as well as the content of the book itself. Each study has been crafted with the same desire: to offer a gateway to a deeper love of God's word and richer insights into its implications for all of life, Monday through Sunday.
NEW | Mark: Living the Way of Jesus in the World
Tracy Cotterell, series editor and author of Mark: Living the Way of Jesus in the World, talks about why she chose this short but powerful Gospel to be the last in the series, and how the study can help equip each of us to live out our faith right where we are.
For two videos on this, please visit: https://licc.org.uk/ourresources/gateway-seven-series/